23 octobre 2014
4
23
/

10
/

octobre
/

2014
09:49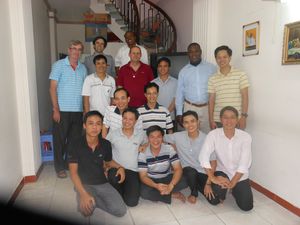 At times, people say to me : "Father, you are a dynamic person, you like to relate with people, you are still young, why don't you work in Belgium? We would enjoy your presence and our church needs people like you ! In Belgium most of the priests are now foreigners, they don't master our language and they don't easily adapt to our culture. We would prefer to collaborate with a native priest.» What is the point of working as missionary abroad since our western society is day after day more secularized ? This answer is to be found in the Gospel itself. When Jesus starts his public ministry, he is very successful. "Everyone is looking for you !'', they say. But Jesus replied : ''Lets go on the nearby villages that I may preach there also''. (Mark 1, 37-38). Every christian is by definition a missionary. A Christian cannot keep the Good News for himself, that would be a nonsense.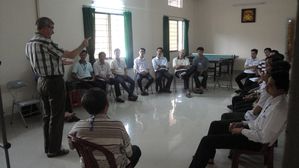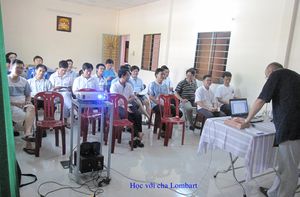 Every month, the brothers go to our house in the countryside (40km from HCMC) to study about religious and missionary life. There are all kinds of topics: the life of the missionaries, prayer, spirituality of our founders,...
The pope Francis tells us that we are called to communicate to others the Joy of the Gospel. At times, we don't dare to pay attention to that call, we are shy, we are afraid to bother the others, we want to be safe and don't want to take risks… We forget that we are called to care for the happiness of our brothers and sisters. Since faith is a privileged way to bring joy and peace in their hearts, it is our duty to share it with others !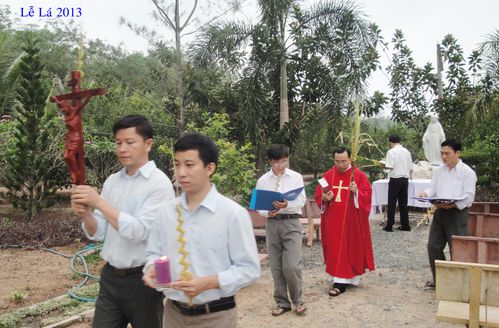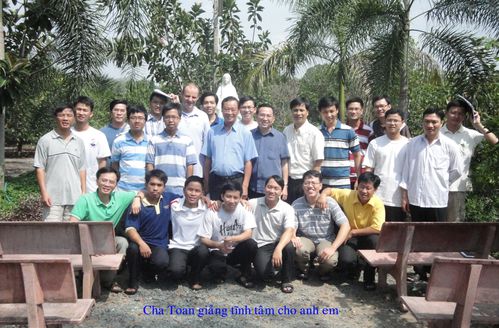 The brothers develop their relationship with Christ through the liturgy (masses, prayers in community) and through retreats and personal time of prayer.
The missionary respond to this call by in a very strong manner. He renounces to a family, a job, a social network, he gives up everything and go to the unknown, but he does not go alone. God sends him and accompanies him wherever he goes. As missionaries, we belong to a new family, we assume new responsabilities, we enlarge our horizons, we let ourselves be transformed by the people we reach. It is not an easy process. We often get mad for many reasons : the foreign language we have to learn, the local culture, our lack of efficiency as foreigners.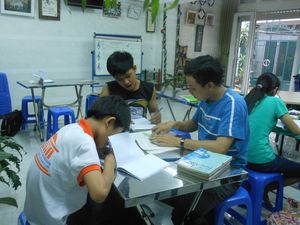 To prepare oneself to do pastoral work, our candidates need to learn to organize activities for all kinds of people. Once a week, they do some service in orphanages or in the parish.
In Vietnam, some people have prejudice against us. They think that we come to Vietnam only to get vocations. They think that we work for our own interest. We stay at the margin of the Vietnamese church since we don't have much possibility to collaborate actively with it. Apart from celebrating some masses, we are not envolved in major ecclesial projects. Are the missionaries marginalized people? In Vietnam, the answer is definitely yes ! But it encourages us to grow in humanity, to get rid off our own comfort, our status, our own world and security in order to become closer to those who are also far from their home, those who are the marginalized of the society.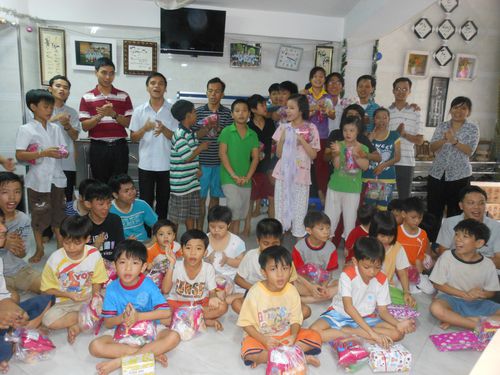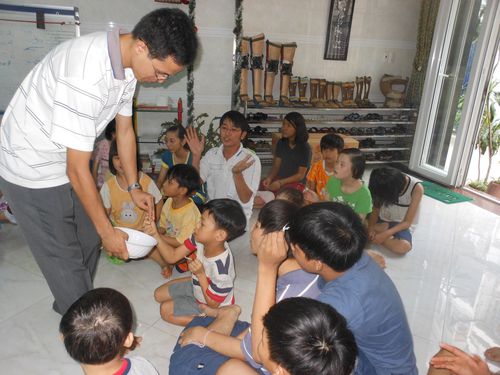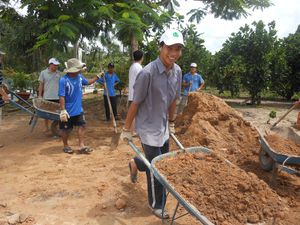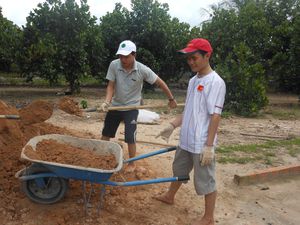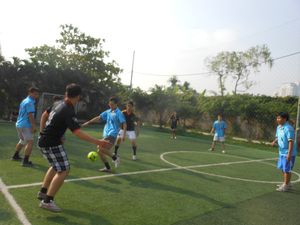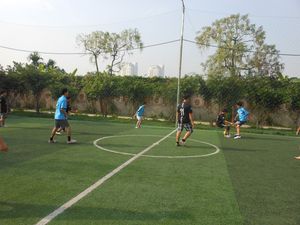 Working in the garden of our countryside house or playing sport is needful for young people. Anima sana in corpore sano (a healthy mind in a healthy body)
Training a new generation of vietnamese missionaries, we know that they soon will face similar challenges. They will have to be capable of renouncing to themselves in order to be ready to serve any kind of people in any circumstance. They will be successful if they respond joyfully to their call. Since life and vocation are not magic, they will suffer frustrations. At times, some will freeze or even give up. But I am sure that many of them will be happy witnesses of the Joy of the Gospel. Pope Francis says that '' "Life grows by being given away, and it weakens in isolation and comfort. Indeed, those who enjoy life most are those who leave security on the shore and become excited by the mission of communicating life to others"..'' [Gaudium Evangelii, 10 (the Joy of the Gospel)] Let us be enthusiastic people and let us make life enthusiastic for others as well !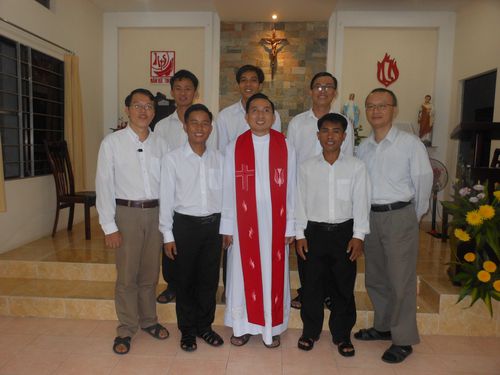 After 4 years of discernment, some of our candidates are invited to enter into the noviciate.
At the end of the noviciate, the brothers commit themselves doing temporary vows. They are then officially members of the Congregation of the Holy Spirit. For the last two years, 12 vietnamese did their first vows in Vietnam.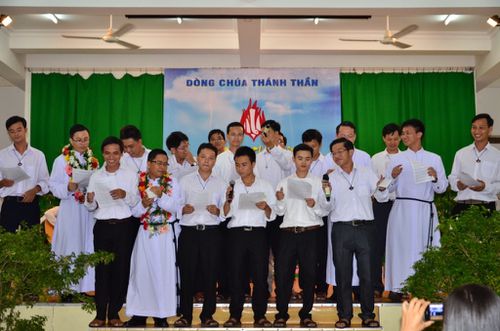 This year, we have 32 brothers in formation, a big family !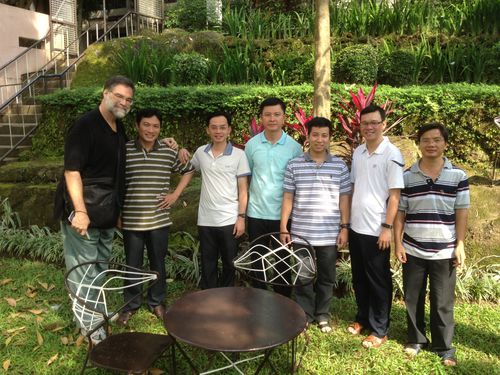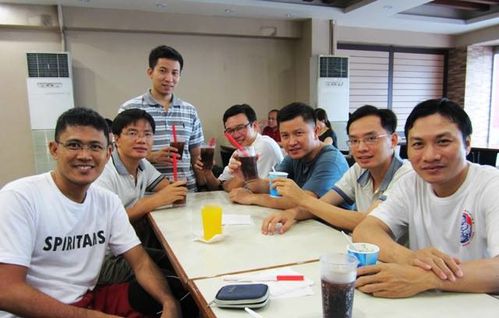 The noviciate is followed by 4 years of theology in Philippines and 2 years of pastoral work abroad.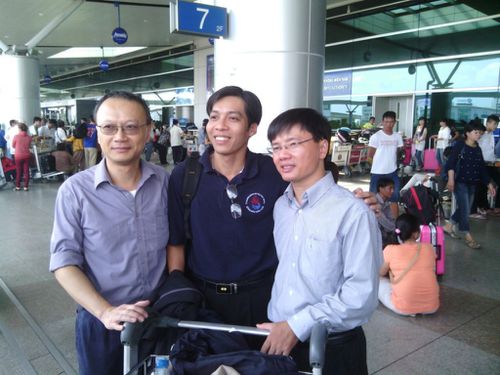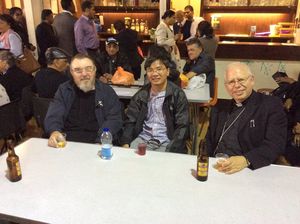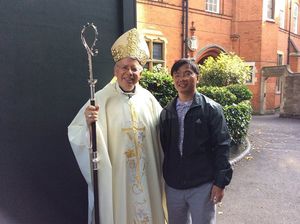 This year, three brothers went for pastoral work abroad, one in Taiwan, the second one in Ouganda and the third one in England. Three very different contexts of mission !